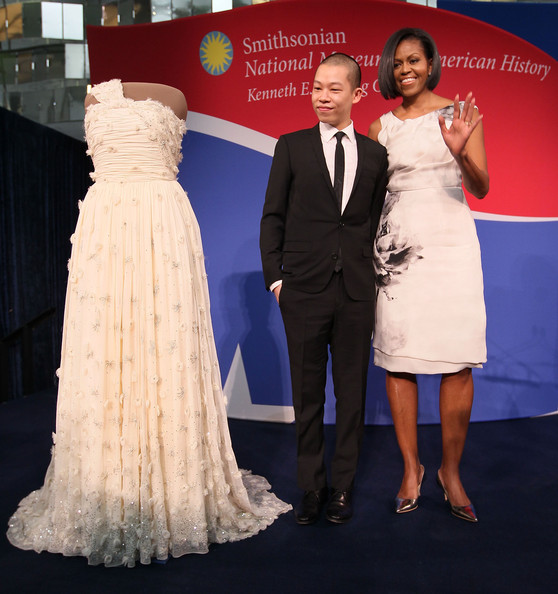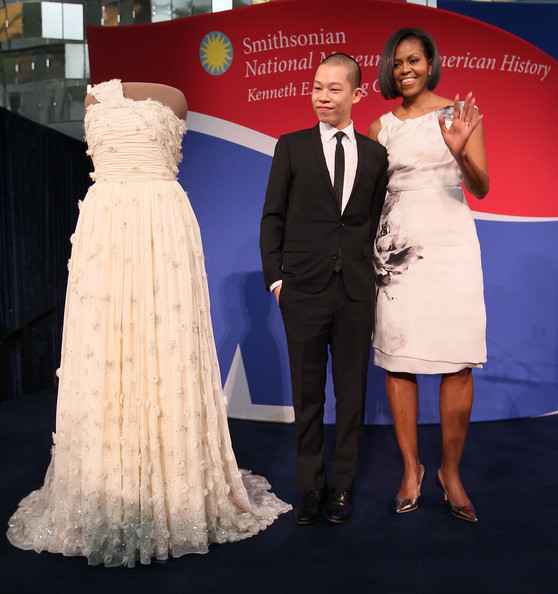 Yesterday at the Smithsonian National Museum, designer Jason Wu finally got to meet First Lady Michelle Obama as they enlisted the dress he designed for her , and she subsequently made famous , into the American First Ladies Collection.
Though Michelle wasn't wearing a Wu piece to the induction , she chose a nude printed Prabal Gurang dress, as it happens , she had nothing but gushing loveliness to say about the designer.
"The countless hours that you can see he spent sewing this piece made my night even more special and now I am proud that millions of visitors will be able to see just how talented this young man is," Obama said of the ivory, one-shouldered dress she wore to her husbands inauguration ball. "It is simple, it's elegant and it comes from this brilliant young mind, someone who is living the American dream."
And Wu, of course, was quick to throw back the thanks at Ms. Obama for the affect she's had on his career since supporting his designs, Vogue UK reveal.
"To say that she has changed my life is truly an understatement," he began. "What Michelle Obama has shown is that fashion can be a really powerful message in itself. I think there is something to be said about a woman embracing her femininity in a very political environment where everybody is in suits, yet she can be taken just as seriously. She can deliver a message and she can support the President just the same. That is something we haven't seen before."
A blossoming friendship, we think you'll agree.