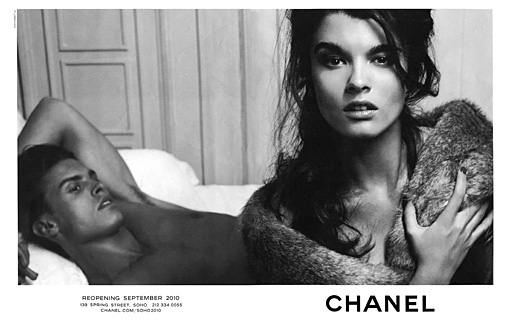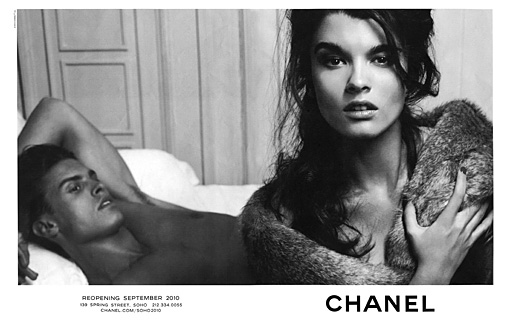 It's not often we utter these three letters, but this news calls for an over-excited oh em gee and an exclamation mark – Crystal Renn has climbed another rung on fashion's ladder after scoring her first ever Chanel campaign!
See, we told you we needed those three letters! Though before we continue, we should probably point out she's not the face of the new collection, she's actually starring in the campaign to promote the reopening of Chanel's SoHo store, but y'know, small mercies.
The sultry black and white shot – taken by Karl Lagerfeld himself in a Paris studio – shows the plus-size model posing in a fur stole (faux, probably) with a sexy dishevelled bardot-esque up 'do and an even sexier Baptiste Giabiconi lying on the bed behind her.
And naturally, Ms. Renn is rather pleased.
"I'm absolutely freaking out," she told Fashionista. "Working with Chanel has been my dream forever. As long as I've been working as a model I've been thinking about Chanel and working towards Chanel and this campaign is the proudest moment of my life."
She's having quite the moment lately is Crystal Renn, having scored a major campaign for Jean Paul Gaultier AW10 and landing in the centre of a retouching scandal – and let's not forget she walked in Chanel's Cruise show in St Tropez a few months back, too.
Perhaps a very precise Karl Lagerfeld is tentatively testing the waters for something more mainstream between Crystal and Chanel…