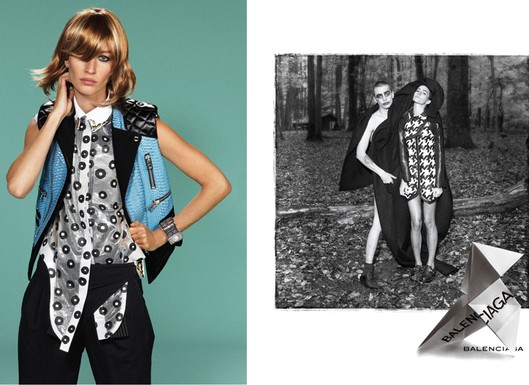 What's this? A picture of Gisele not clad in a bodycon dress with perfectly shimmering locks and even longer legs? Darn right it's not – it's her first ad from Balenciaga's new SS11 campaign.
After making a surprise appearance on the French label's SS11 runway back in September, Balenciaga has unveiled Ms. Bundchen as its new face for next season, shooting her in a series of ad campaigns – courtesy of Steven Meisel's lens – slated to bow in February.
Sporting a completely new look – shorter, choppy locks and a heavy fringe to reflect Ghesquiere's boyish punk spirit for spring – she's not alone, either; male model Yuri Pleskun accompanies her wearing little else but boots and ghoulish makeup in the striking ads.
Question is, do you like this new 'accessible' Gisele, or did you prefer her when she resembeled something from Goddess descent?
[WWD]