Are you trying to nail the 'wealthy woman style' vibe without breaking the bank? It's possible! You don't need a huge budget to "dress expensive".
With just a few simple tips, you can get an enviable wardrobe without causing a major dent in your wallet.
So, what defines a wealthy woman style?
Well, it's a woman who radiates confidence and grace, with a timeless and well-fitted wardrobe tailored to her body shape. Her accessories are elegant and understated, yet they still make a statement.
She effortlessly creates eye-catching ensembles without appearing flashy or over-the-top.
Her makeup is always applied with precision and skill, highlighting her best features while looking natural.
Above all, she carries herself with poise and sophistication, no matter the occasion – the ultimate mark of luxury.
So if this is a look you'd like to perfect, but you're on a budget, worry not, we've got you covered.
From learning where to shop secondhand to investing in quality basics, strategically accessorising and sticking to neutral colors, we'll cover everything so that looking well put together is effortless (and affordable).
Plus, learn how tailoring is key for making any outfit look high-end, as well as knowing which details make or break an ensemble.
Here are all the secrets for achieving that expensive look on a budget – let's get started!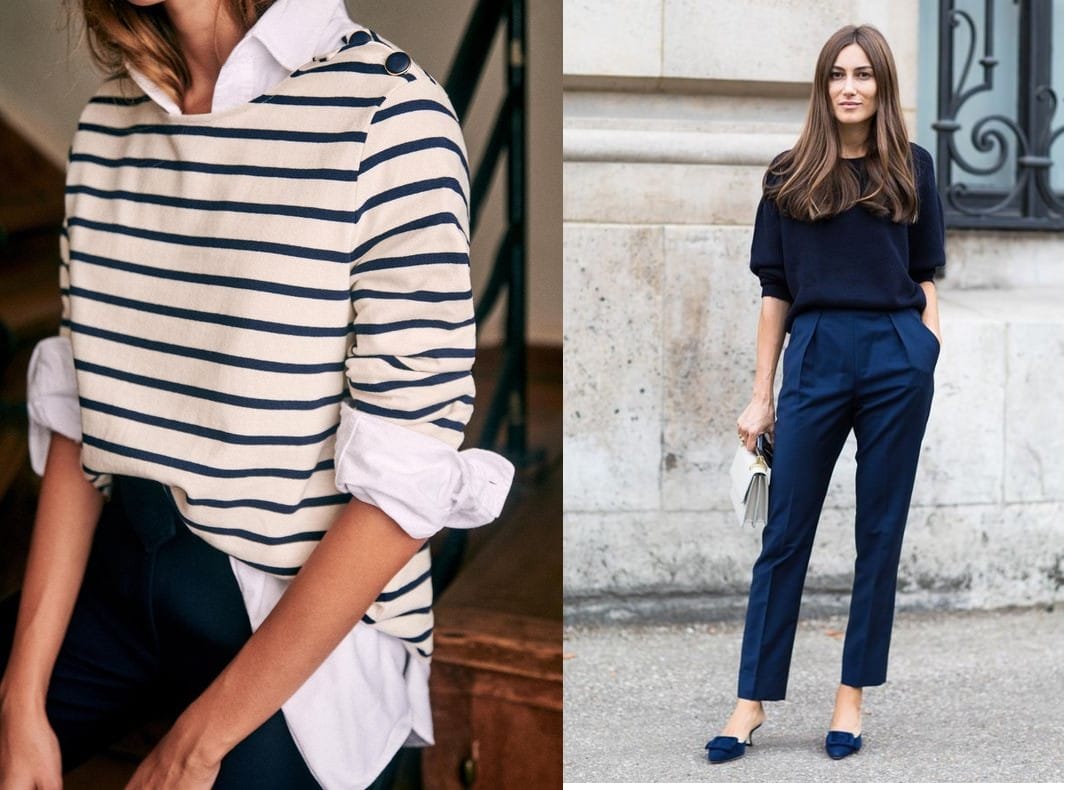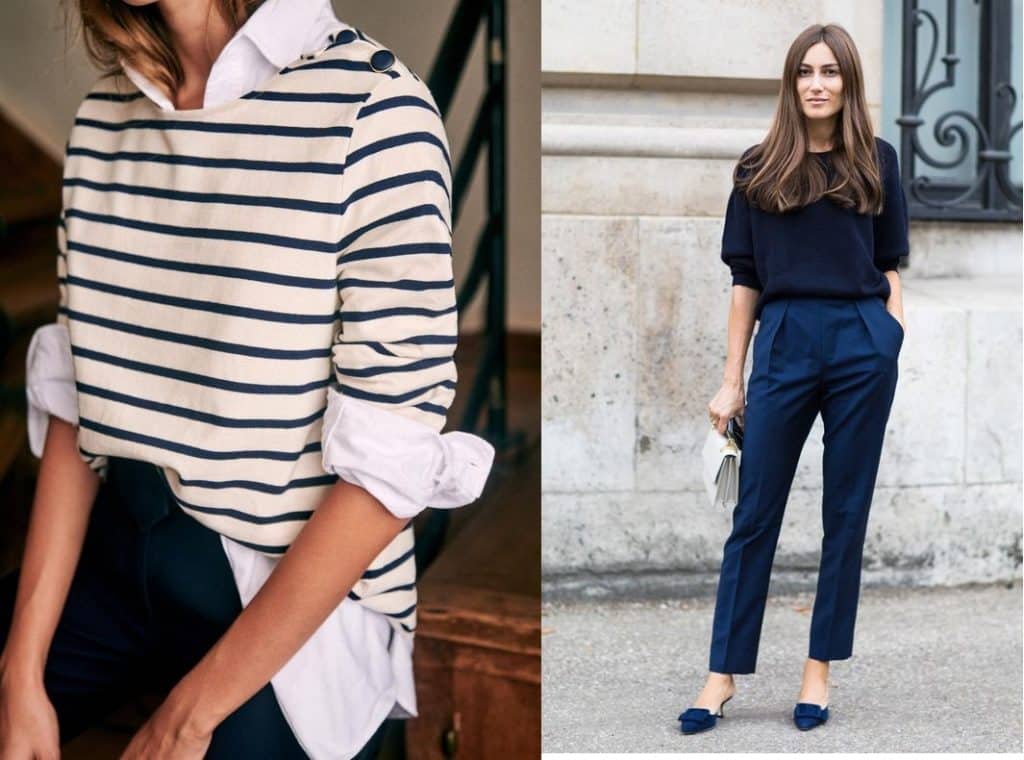 How to look expensive on a budget?
1. Invest in basics
Rather than reaching for on trend pieces that are only going to be out of style in a few months, fill your wardrobe with timeless items that cost a bit more but will last in the long run.
Spending a little more on quality pieces for your everyday wear clothing can help you create an effortlessly chic look, and thankfully there are now lots of ways you can save money on luxury brands. Basics don't make up your entire wardrobe, instead, they are the core pieces which build the foundation of your wardrobe.
There are 10 essential basics that every woman should have. These items include:
Classic white t-shirt
Every wardrobe needs that classic white t-shirt – it's the ideal base for your outfit. The secret, though is finding one made with quality fabrics, so you can rock it over or over again without losing any of that luxuriousness!
Jeans
You can't go wrong with a great pair of jeans. Jeans are the perfect pick for any occasion- from laid-back afternoons spent at home to nights out on the town when paired with a pair of heels!
Invest in both light and dark denim hues, in both straight-leg and slim-fit styles, to open up many more outfit possibilities. If you have an hourglass figure, high rise jeans are also a great addition to your closet.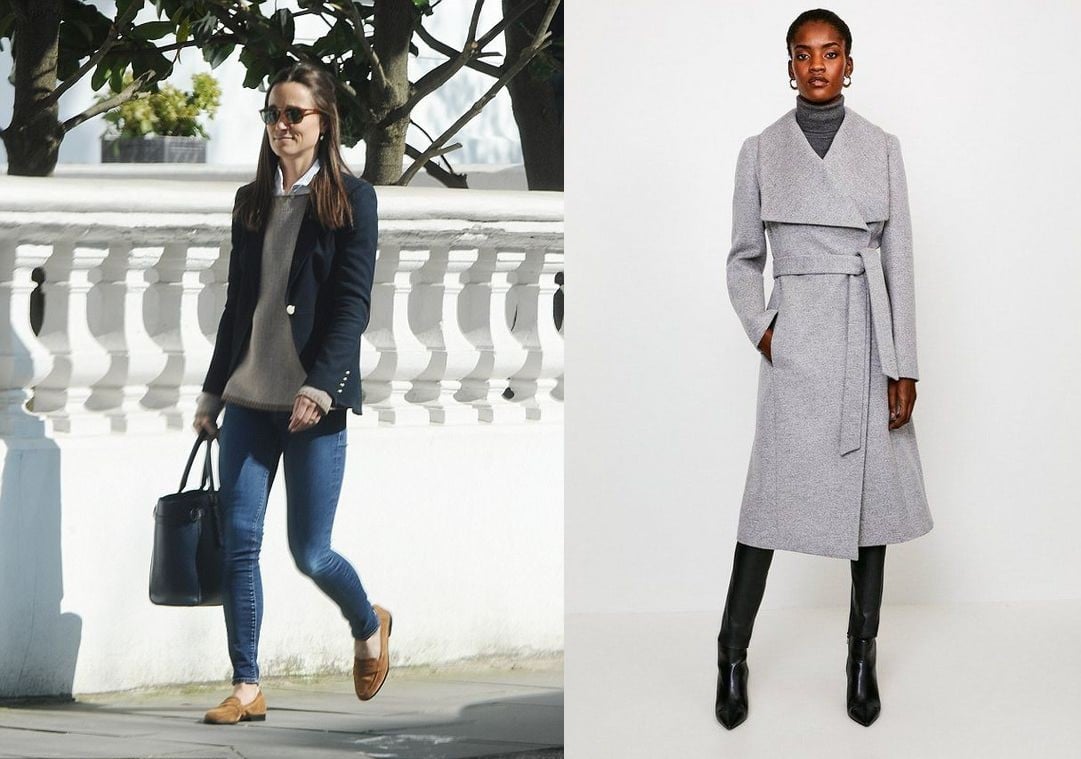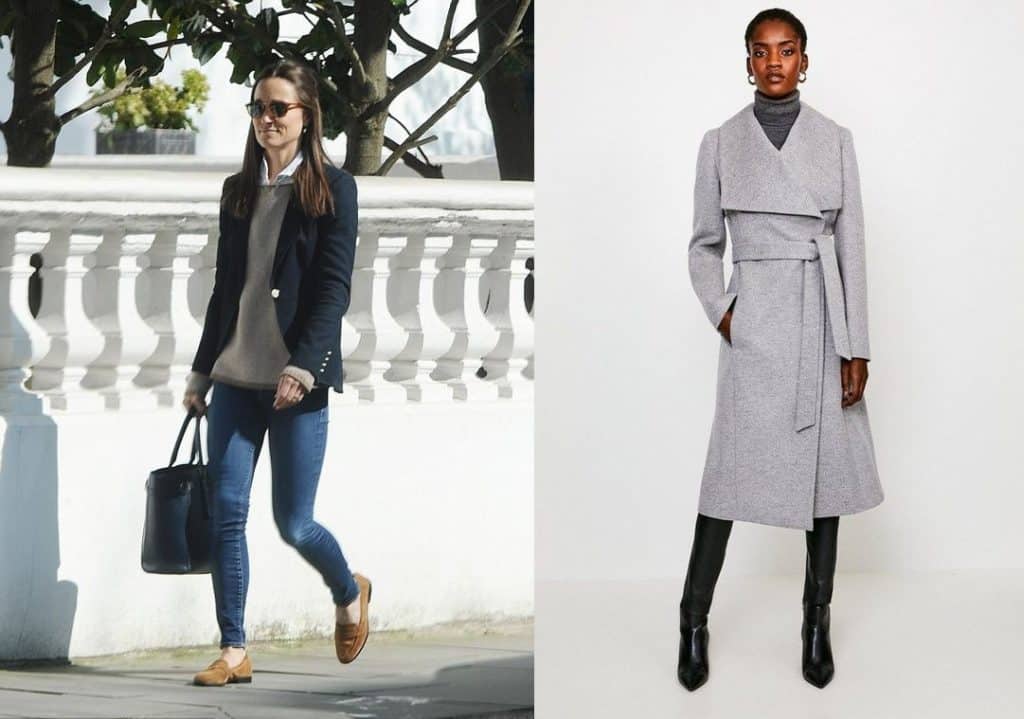 Black or navy blue blazer
A good blazer is a perfect way to take any look up a notch. Go for something that fits your personal style – fitted or oversized, tailored or relaxed!
Wearing a well-suited blazer has the ability to completely transform your look and make your outfit look expensive AF – even if it totally isn't. Wear it with a white t-shirt, jeans and a statement bag for a chic and polished look.
Little Black Dress
No closet is complete without a little black dress. From day to night, it's always elegant and classy.
With this classic item in tow, you can easily go from kickin' around town with sneakers or flat shoes during the day…to glamming up at dinner or drinks just by switching to heels and a clutch bag!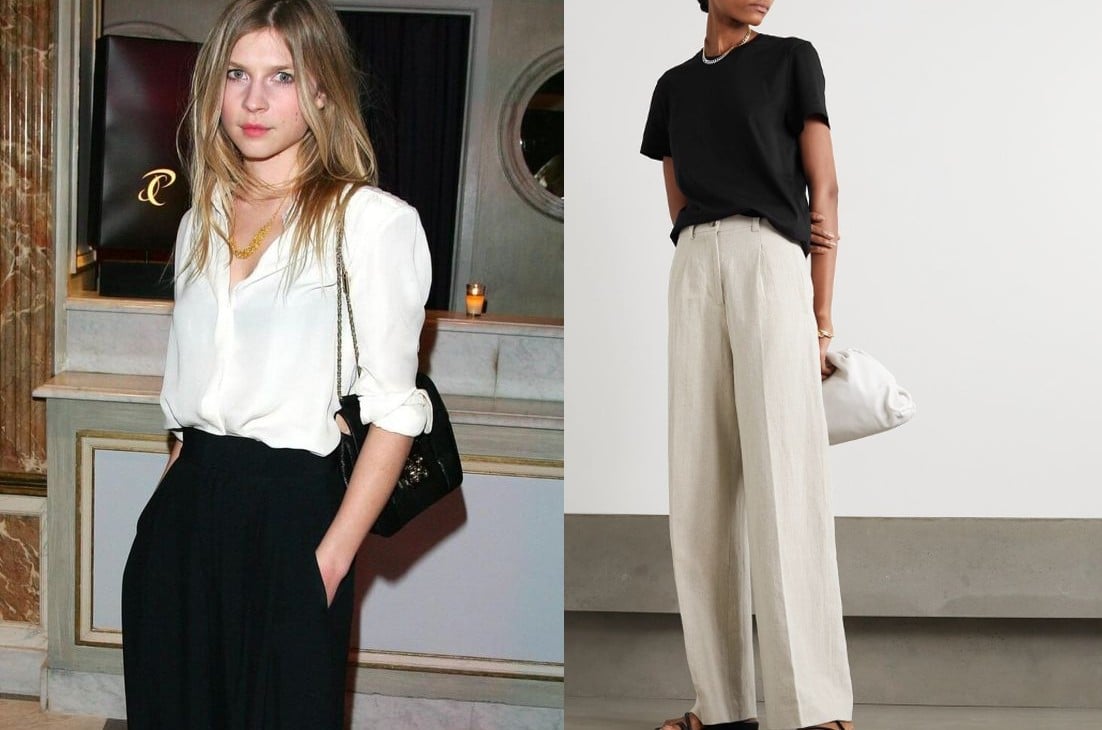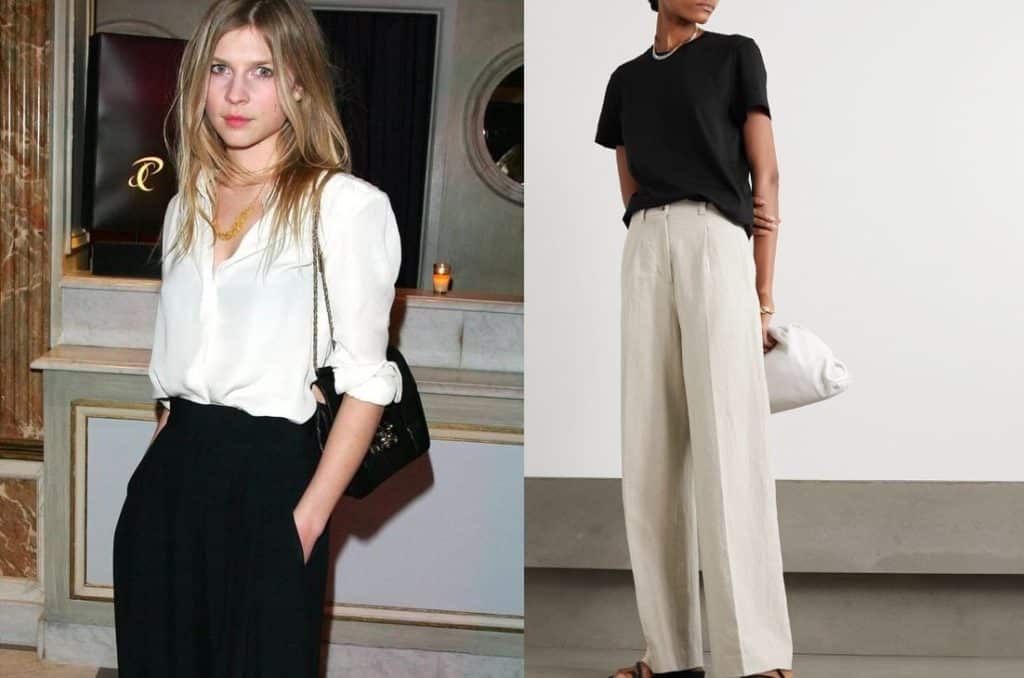 Button up shirt
Go for a button-up shirt in a solid color like white or light blue, and a striped shirt is always good to have too.
Again, opt for a well made shirt made with quality fabrics and team it with anything from jeans to a skirt or trousers. Team your outfit with sunglasses and carry a tote bag to complete your look.
Tailored trousers
Trousers are a must-have for any wardrobe, but finding an ideal pair isn't always easy. If you can't find the perfect fit off-the-rack, then it's worth visiting a tailor – they'll make sure yours look just right!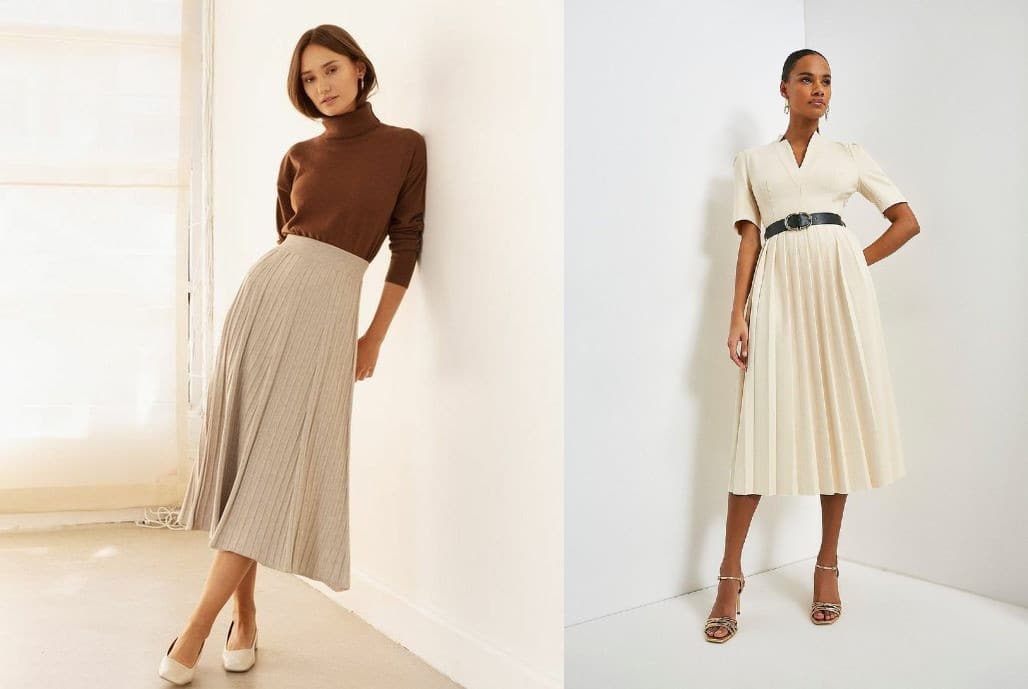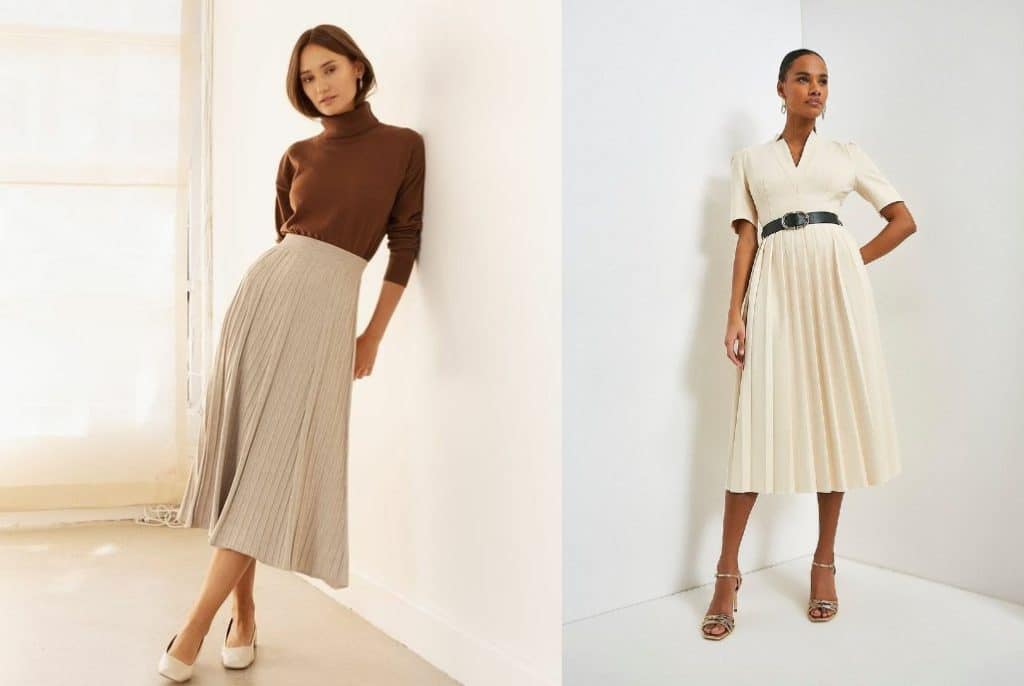 Skirt
When picking out the perfect skirt for your wardrobe, versatility is key! Look for something in a neutral hue and choose from mini, midi or full-length styles.
No matter what style you choose, whether it's a pencil skirt or a maxi skirt, make sure it's comfortable and fits your personal style.
Tailored coat
Invest in a beautifully fitted wool coat to elevate your entire look. You'll look good and feel confident. It's worth visiting a tailor for the perfect fit as well, as this will ensure your coat looks great and is comfortable to wear.
A tailored coat should be timeless and classic, so it can be worn season after season. With the right styling, you can make any outfit look luxurious without breaking the bank!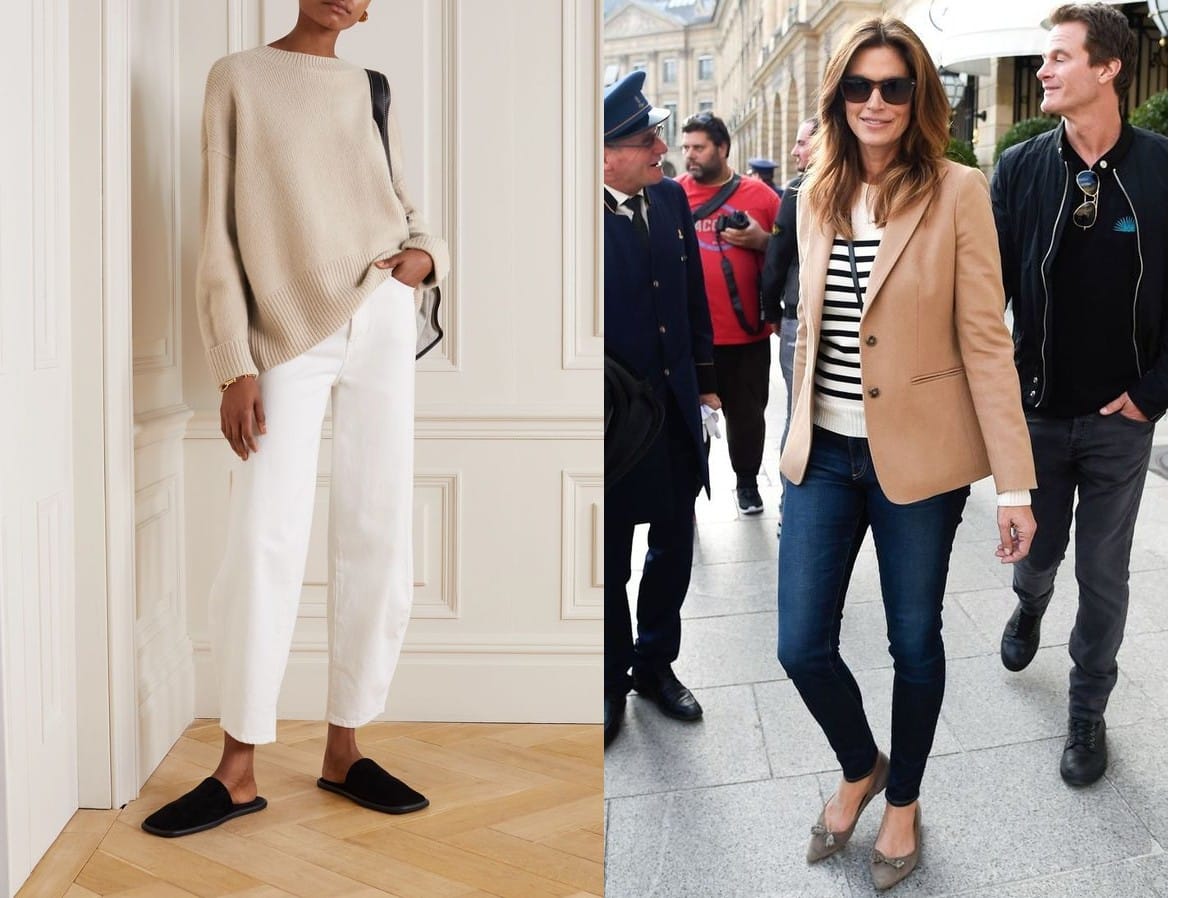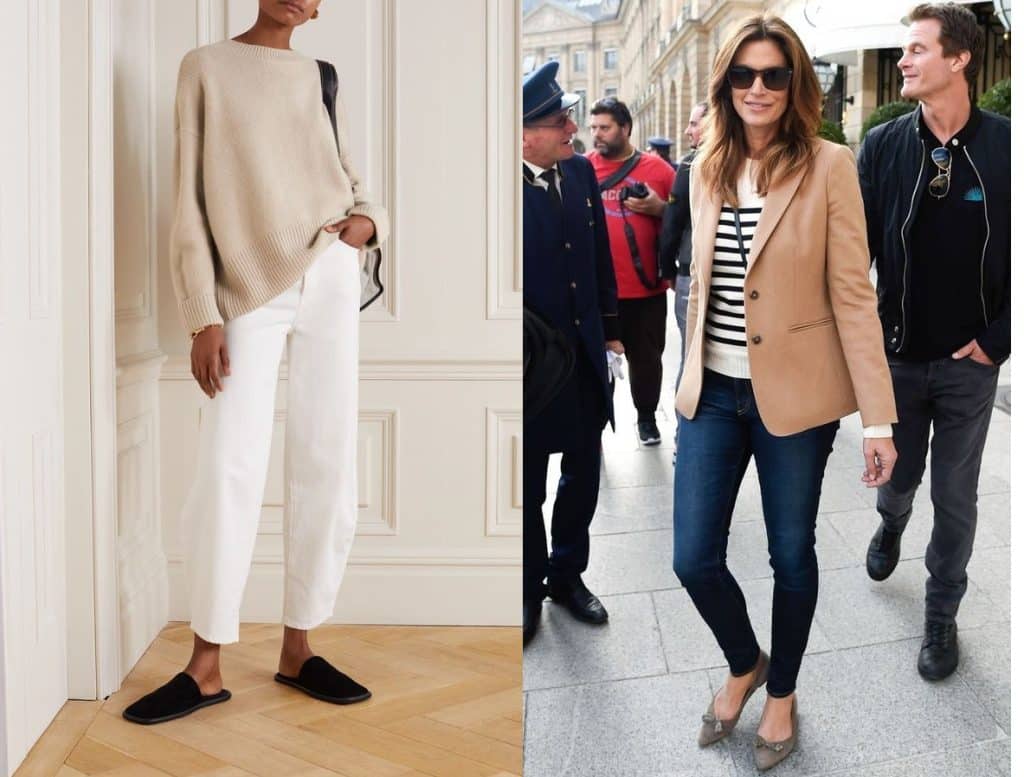 2. Search for discounts & deals
No one likes to pay full price! When you're on a budget, it's always worth taking the time to search for discounts and deals. Sites like ThredUp, and Poshmark are great online resources for finding designer items at discounted prices.
It's also a good idea to keep an eye out for sales when shopping in stores or online. Additionally, signing up for loyalty programs at your favourite retailers can often lead to exclusive deals and discounts.
Finally, be sure to check out Amazon for their Prime Wardrobe program, which is a great way to try before you buy. With a little bit of research, you can be sure to find great deals and discounts that will help your outfits look expensive on a budget.
Sign up for email newsletters of your favourite stores and follow them on social media to stay informed about upcoming sales. Shopping during the clearance season and taking advantage of discount codes can be great ways to get designer items at a lower price.
3. Shop secondhand
You don't need to spend money on new clothes to look like a million bucks. One of the biggest advantages of buying second-hand clothes is that it can save you a lot of money.
You can find designer labels, vintage pieces, and unique items for much less than they would cost in retail stores.
When searching for items in thrift stores or consignment shops, take time and carefully look through all the racks, as some gems may be hidden away from plain sight.
Also, look closely at seams, buttons, zippers and other details to ensure that the item is in good shape. Try on the garment to make sure it fits properly or if there are any noticeable stains or holes.
It's also important to pay attention to fabric content as some materials may not be suitable for machine washing or dry cleaning.
Before buying something secondhand, do some research online first, so you know how much an item typically costs new and its current resale value.
This will help you determine whether or not a particular piece is worth purchasing based on its condition and age.
It's also best to compare prices between different thrift stores or consignment shops to get the best deal possible!
Don't limit yourself when looking for second-hand clothing; shop both online and offline until you find exactly what you want at a price that works for you! There are many great designer resale websites.
4. Stick to neutral colors
Wear clothes in mainly neutral colors is another great way to make your outfits look more expensive. Neutral colours such as black, white, grey, and beige can be easily mixed and matched to create new looks each time.
They are also classic and timeless, so you never have to worry about them going out of style. Additionally, they are extremely versatile and can be easily accessorized with bold colors and patterns.
Opt for neutral colours that compliment your skin tone for a chic appearance!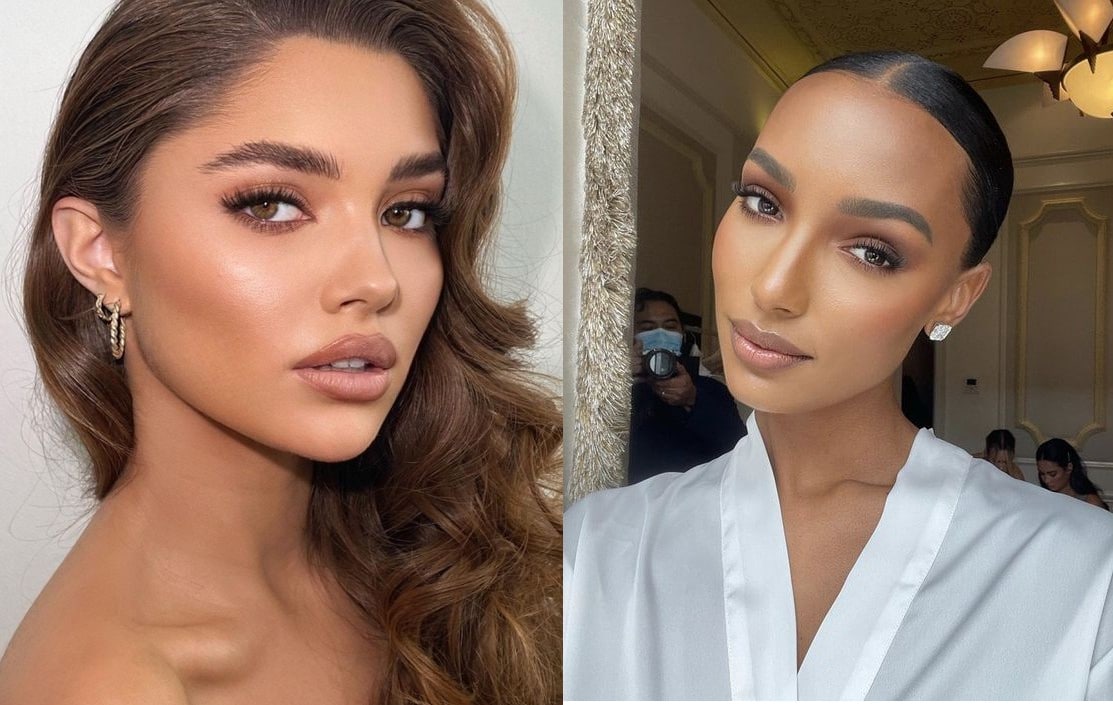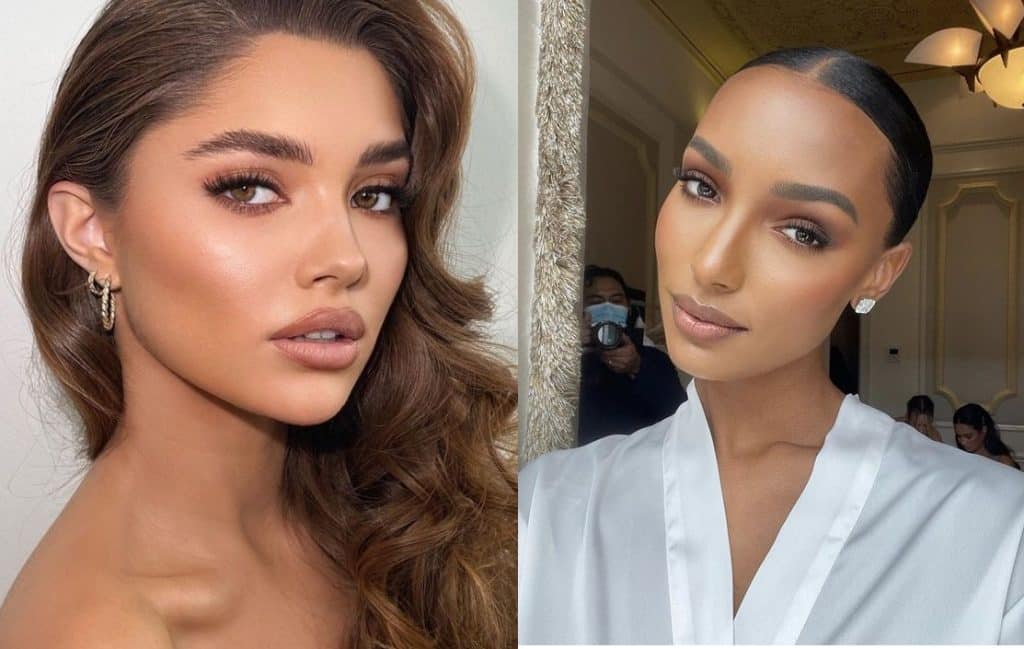 5. Natural makeup look
Rather than caking on layers of makeup for an expensive look, opt for natural makeup with subtle accents instead.
There are two benefits to simple makeup. Firstly you'll look more classy and secondly you'll save money, seeing as you won't need as many products.
Make looking after your skin part of your morning routine so that you can keep your make up to a minimum and wear makeup to accentuate your natural features, such as using a bit of mascara or lip colour for a subtle pop.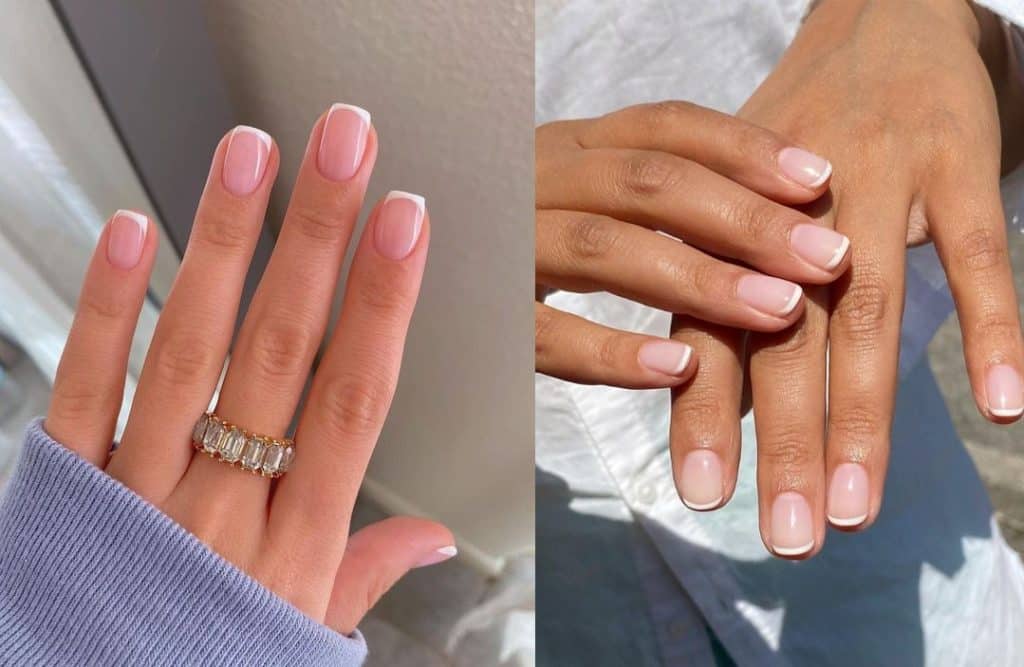 6. Be well groomed
People tend to spend lots of money on colour and style changes instead of focusing on taking care of their hair.
Buy a good blow dryer and curling iron and use deep conditioners, hair masks, and natural oils regularly will keep your hair looking health and glossy. Don't underestimate the power of having your hair look healthy and strong. It really can make all the difference.
Also, getting a manicure and pedicure helps with looking polished and classy. Give yourself a DIY mani and pedi to look expensive within a budget.
8. Stay away from in-your-face logos
Avoiding bold designer logos is key for giving off a high-end vibe. Prominent designer logos can look cheap, flashy and gaudy. Also, designer logos can be a huge giveaway that you're wearing designer clothes which can take away from your effortless style.
For a more expensive look, it is best to focus on details that are subtle and won't draw too much attention to the logo itself, for example, small touches such as delicate buttons, a tasteful print or pattern, and different textures.
Additionally, taking the time to find structured pieces can make a simple outfit look more polished.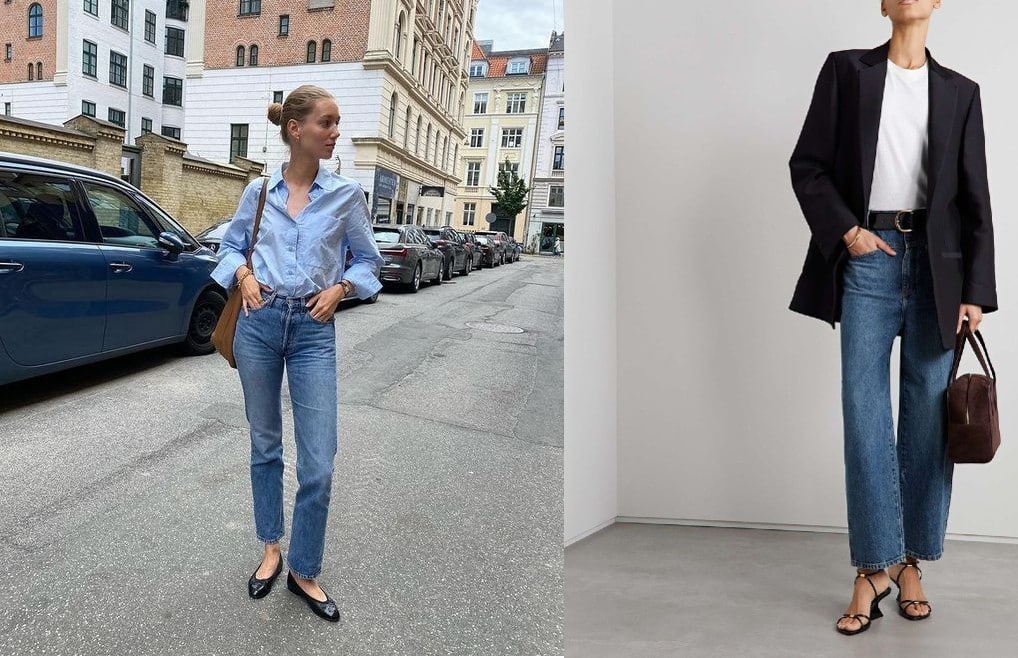 9. Find a tailor to make your clothes fit
To look expensive, you'll need to wear clothes that fit properly and a tailor can make a big difference when it comes to adjusting clothes.
A tailor can make subtle adjustments such as taking in the waistline or sleeves of a dress for a fitted silhouette and having clothes professionally altered will help ensure that the pieces fit you perfectly and last longer.
Be sure to communicate your expectations clearly so that the tailor can deliver results that meet your requirements. With the right tailor and suitable adjustments, you can take any piece of clothing from ordinary to extraordinary and look expensive on a budget!
10. Choose the right accessories
Investing in higher-end accessories such as designer handbags, statement jewelry, and classic leather belts can be a great way to look classy.
When it comes to jewellery, choose classic pieces that can be worn for years to come. Wearing statement earrings such as gold hoops and diamond studs, along with delicate necklaces with simple pendants is a great way to look expensive without trying too hard.
A well-crafted watch is another great accessory for making outfits look expensive. When selecting a timepiece, go for classic styles such as an analog watch or a subtle leather banded timepiece with minimal detailing. A good watch can be pricey, so be sure to snap one up on sale, but they will last you for years to come and will serve as a timeless accessory.
For handbags, black, navy and beige are great options as they will compliment the majority of outfits. Opt for a structured bag with minimal detailing for a sleek and sophisticated look.
Leather structured bags are expensive but will last you years if taken care of properly. Invest in a good quality leather bag and avoid faux-leather as it can look cheap and wear out quickly.
12. Have a good selection of shoes
Another way to look expensive is to have a selection of shoes you can wear often. Now you don't have to max out your budget to do this.
Spend your time looking in the sales for must have shoes like ballet flats, loafers, ankle boots and strappy sandals that will never go out of style.
Look for timeless colours like black, white and nude and invest in good materials such as leather or suede, which will keep your shoes looking sharp for longer.
Wearing a well-made pair of shoes can transform any outfit and become the statement piece you need to achieve that luxurious look. Vivaia have a really good range of quality shoes that are reasonably priced but look expensive.
11. Take care of your clothes properly
If you've taken our advice and snapped up clothes made from high-quality fabrics then taking care of your clothing to keep them looking new and expensive won't be hard.
Be sure to wash your clothes according to the instructions on the label, store them properly in a drawer or hanger, and get stains removed promptly.
Also, a steamer or fabric shaver is great for giving clothes an extra boost and making them look brand new.
To recap
To dress expensive on a budget is possible with the best tips and tricks. Wearing basics like a little black dress and a fitted blazer, searching for discounts and deals, choosing timeless pieces made from quality fabrics and sticking to neutral colors are all great strategies to look expensive without blowing your budget.
Investing in accessories like a structured bag, statement jewelry, belts, and watches can help to elevate any outfit and make it look more expensive.
Finally, looking after your skin and hair and wearing less rather than more makeup is key. With these tips in mind, you will be able to achieve an expensive look without blowing your budget!