So, you've got an hourglass figure, huh? Lucky you!
This is one of the least common body shapes making it extremely sought after. And when it comes to famous hourglass figure icons, there's no shortage of stunning examples.
Let's take a trip down memory lane and remember Hollywood legends like Marilyn Monroe and Sophia Loren, who epitomized the classic hourglass shape and always dressed to impress.
Fast forward to today, and we've got some more contemporary celebs flaunting their beautiful curves. Think Christina Hendricks, Dita Von Teese, Kim Kardashian, Scarlett Johansson, Salma Hayek, and Jennifer Lopez…
Now we're guessing you clicked on this article because you want to know how to dress for your body.
And we also know dressing an hourglass can be a bit intimidating…That's why we've created this guide to help you every step of the way!
First we'll start by identifying if you truly have an hourglass body or if you're more of an inverted triangle (hey, both gorgeous shapes!) before diving into the styling tips and tricks you need to show off your upper body, cinch in that waist, and flaunt your feminine curves.
Definition of the hourglass body shape
An hourglass silhouette is all about curves in the right places, a fuller bust and hips, petite waist, plus wider shoulders for true symmetry.
It's common to mistake this shape for the inverted triangle or rectangle.
How can you tell them apart? Easy! The key difference is the balance between the upper and lower body.
An hourglass shape has equal proportions, while inverted triangles have wider shoulders and rectangles have less defined curves.
How to tell if you have an hourglass figure
If you want to be absolutely sure you've got an hourglass body shape, grab a measuring tape and note down your bust and hip measurements. Now, divide your bust measurement by your hip measurement.
If the ratio is 1 to 1 or pretty close (within 0.7 to 1.3 of each other), then congratulations, you've got an hourglass body! Want to dig a little deeper? Calculate your waist-to-hip ratio, which should ideally fall between 0.8 and 1 for a true hourglass figure.
Take your waist measurement down, too. For that classic hourglass look, your waist should be about nine inches smaller than your hip circumference.
How to dress an hourglass body shape
1. Wear high-waisted and pencil skirts
High-waisted and pencil skirts are the perfect go-to's as they hug your hips and thighs in all the right places – highlighting your curves like nobody's business!
Then we have wrap skirts; what's not to love? The adjustable tie at the waist means it'll fit snugly around each inch of that unique shape of yours.
A-line skirts are also a must-have, they flare out gently from the waist, which creates a perfectly balanced silhouette that showcases your fantastic figure.
However, let's give you one piece of advice – always choose correctly fitting skirts so that everything stays smooth and elegant without bunching or pulling at the waist.
2. Flaunt your waistline with wrap tops and dresses
Wrap tops and peplum tops are fantastic for accentuating your narrrow waist and create a mesmerizing silhouette that'll make heads turn.
The same goes for wrap dresses which are an excellent addition to your hourglass wardrobe because they're so versatile. Best of all they can go from am to pm effortlessly.
Snap up a wrap dress in lightweight fabrics like cotton for chillin with friends and silky satin for special occasions.
3. Embrace both skinny and flared jeans
Think skinny jeans won't work for an hourglass shape? Think again! When paired well, they can look amazing, fitting like a glove without feeling too tight or binding.
But finding the perfect pair can be a challenge. Look for ones that hug your natural curves without feeling like a sausage casing.
Pro tip: dark washes are your BFF. They have a slimming effect that will make you feel like a million bucks.
If you're in the mood for something a little more relaxed, try out some flare jeans. They're a fun way to balance out your fuller hips and thighs.
Just make sure the flare kicks out from mid-thigh or higher, so you don't get lost in a sea of denim.
4. Choose the right necklines for your hourglass figure
V necklines are perfect for highlighting an hourglass body type. They creating the illusion of a longer neckline and make your larger bust looker smaller.
Scoop necks are also great as they draw attention to your collarbone and shoulder, for an all over evenness.
Feeling modest yet wanting to flaunt what your mama gave ya? Boat neck tops will do just that while keeping things classy.
Just avoid halter tops because they might add too much volume around your chest region (no thank you).
Now full disclosure: turtlenecks or high-necked tops aren't super flattering for hourglass bodies either. They tend to hide as opposed to highlighting your gorgeous figure.
5. Invest in accessories that compliment your hourglass body
Skinny belts are perfect for enhancing your feminine shape. Go bold with a powerful buckle or choose bright colors & fun patterns for an eye-catching look!
Add a statement necklace or two to your jewelry collection. They're ideal for highlighting your décolletage and showcasing your voluptuous curves – double win!
Let's talk scarves now. Yeah, you heard right. Scarves are a chic way of elongating your neckline.
Finally, when choosing shoes go for mid heel pumps or stiletto's and wedges to make your legs look longer.
6. Select swimwear that accentuates your curves
Go for swimsuits with a deep-V or halter neckline to enhance your bust while complementing your silhouette. Consider bikinis with underwire and padded cups to support and elongate your torso.
Want something more daring? Go for a monokini with cutouts on the side or back.
When it comes to prints, bold patterns like polka dots, stripes, and florals can be fun but make sure they don't overwhelm you.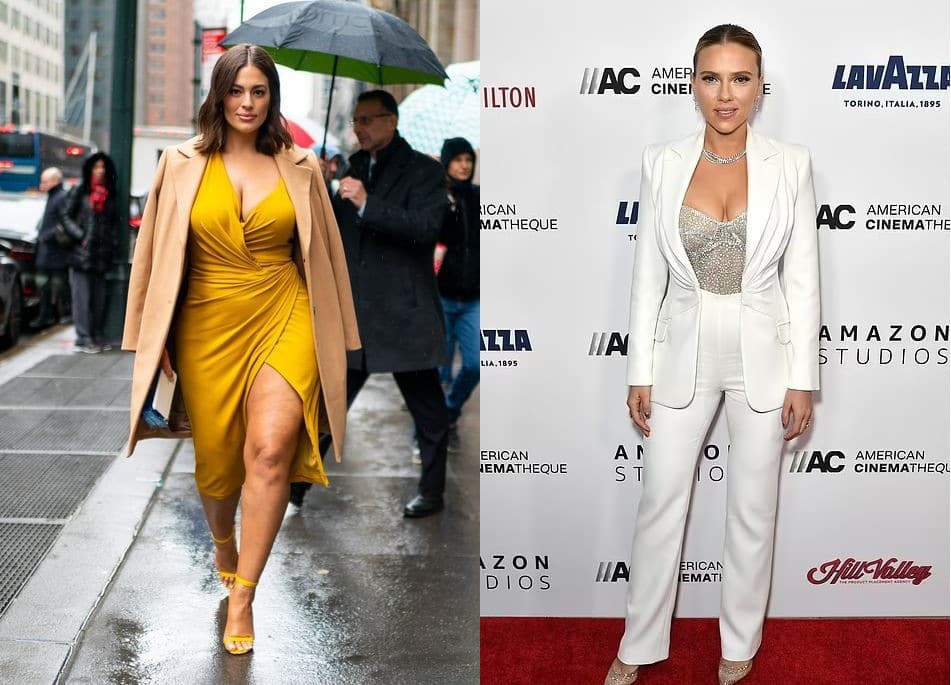 7. Be picky with your jacket choices
For an easy-going vibe, go with moto or bomber jackets. These styles have wider shoulders and narrow waist, perfect for putting your curves front-and-center.
To show off fitted outfits, try cropped jackets that sit just above your waistline or a tailored blazer. And when it comes to slimming options nothing beats the iconic trench coat or a wool belted coat.
Want one final tip on selecting flattering jackets? Stick to a single-breasted jacket; they're less bulky than double-breasted ones.
8. Pay attention to the sleeves on your outfit
Don't overlook the importance of sleeves! The right sleeves can help sculpt a flattering shape while maintaining balance.
Fitted sleeves are your best bet, they'll mold perfectly to your figure and keep attention on that natural balance without adding extra bulk or detracting from your waistline.
Cap sleeves can also work and add extra volume to your shoulders, but you'll want to pair them with structured bottoms like a pencil skirt or tailored pants.
Avoid any oversized or embellished sleeves, as these will draw attention away from your waist.
What not to wear when you have an hourglass figure?
There are certain styles you'll need to approach with caution or sidestep entirely. Here's some of the don'ts when dressing an hourglass shape. Treat these tips as guidelines but remember individuality reigns supreme–find what suits your personal style.
Steer clear of baggy clothes, boxy silhouettes, and flowy styles as they can hide your curves. Heavy knits and shapeless clothing like loose sweaters are to be avoided too.
Low-rise bottoms can be tricky since they widen the waist area while throwing off the balance desired from an hourglass figure.
Boxy jackets ending at the widest part of your hip can literally throw our balance totally out of whack – so let's not even go there.
Drop-waist dresses might seem like a good idea since they float nicely over hips but unfortunately, create more rectangular shapes and have no place in your hourglass wardrobe
Wearing high necklines might leave you looking fuller around the chest region.
Avoid sleeve embellishments OR anything with overly wide, loose arms like flutter sleeves,
How to dress an hourglass figure casually?
For a smart-casual look that'll wow, slip into a bodysuit with cropped skinny jeans and strappy mid-heels.
You can also try a wrap top, flare jeans, and wedges for the perfect mix of laid-back and chic. Or why not high-waisted jeans paired with a tucked-in blouse or snug t-shirt?
When it gets chillier, add an extra layer, like belted jackets or cardigans to finish off your outfit flawlessly.
But back to comfort – nothing beats belted jumpsuits or rompers when you're in need of cozy casual wear while still showcasing what makes you beautiful.
And let's not forget about shirt dresses! Cinch them at the waist and pair with chunky sneakers or sandals for an unbeatable daytime look.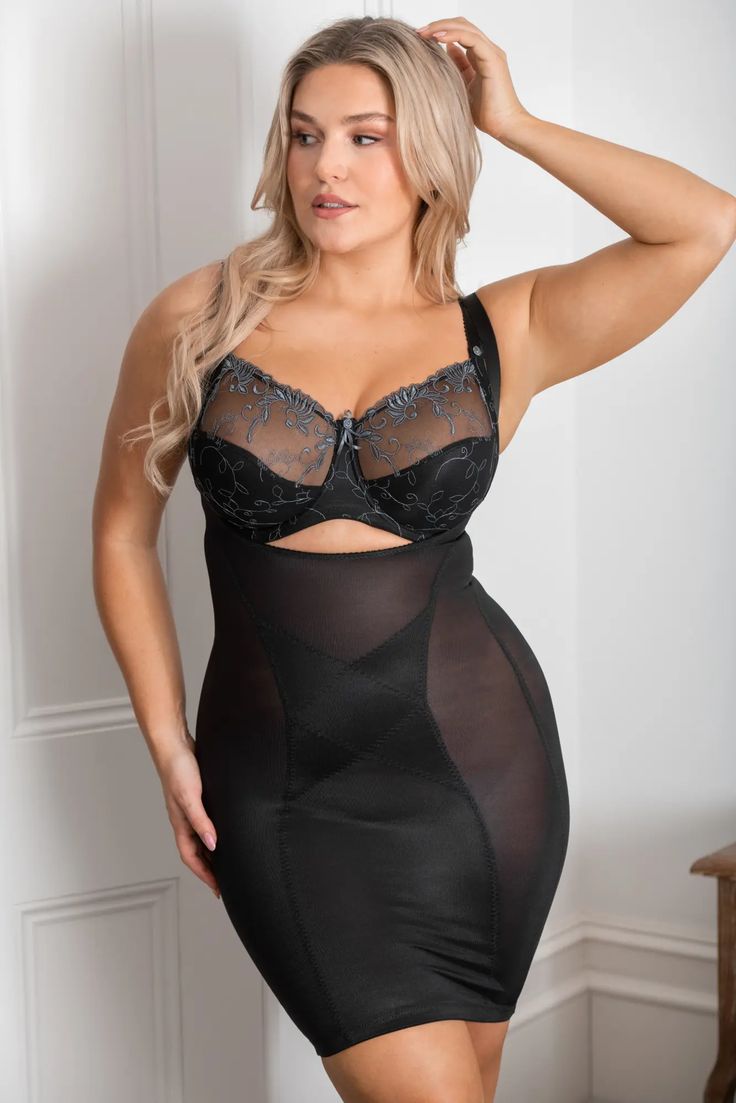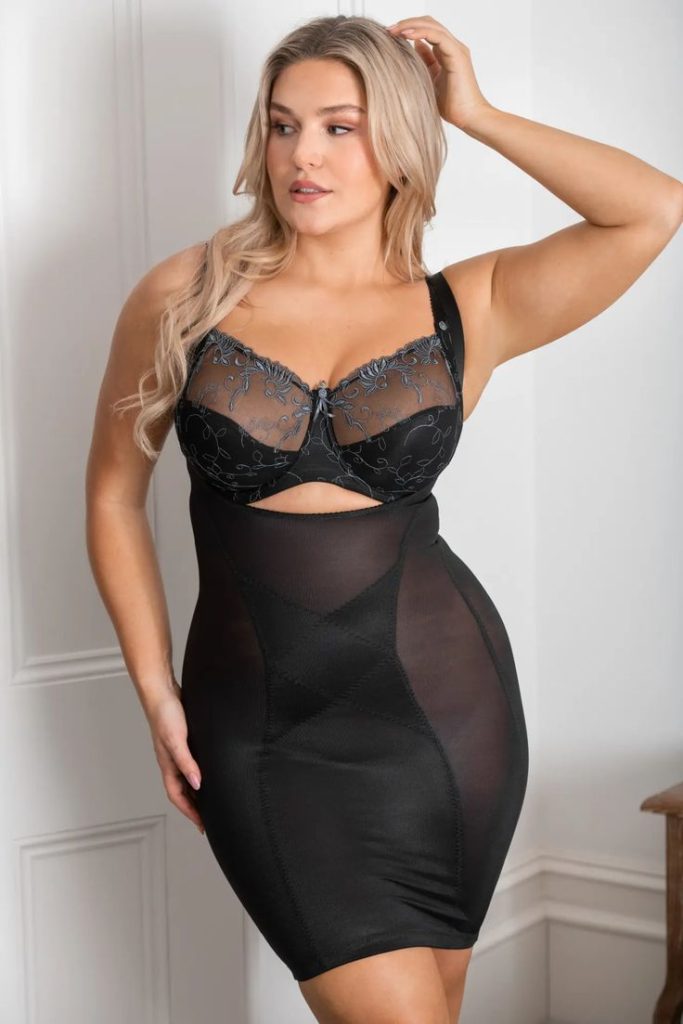 How to dress an hourglass figure with a big tummy?
Highlighting your waistline with clothing like wrap tops, A-line dresses with a high waist, or empire waist dresses is actually a great way to take attention from your midsection.
These styles will emphasize your upper body while hiding any extra weight around your tummy.
You can also layer a flowy cardigan over a fitted top to create a balanced look. Choose fabrics that drape nicely, like jersey, chiffon, or silk.
High-waisted trousers are the best for creating an illusion of a slimmer belly when paired with tucked-in shirts or cropped tube tops.
Use dark colors and vertical patterns to draw attention away from your midsection and towards more flattering parts of your outfit.
Let statement accessories such as bold earrings or killer shoes do most of the talking so eyes get drawn elsewhere rather than focusing on your midsection.
Lastly, invest in quality firm control shapewear and make sure that your clothes don't cling to your belly.