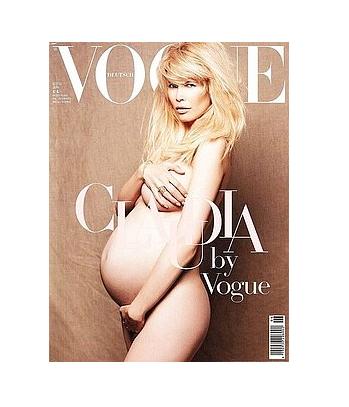 Believe it or not, it's been four months since we revealed the news that Claudia Schiffer was pregnant, but you'd be in no doubt about that today. With the arrival of her third born imminent, the supermodel's gracing German Vogue's June cover, baring baby bump and just about everything else.
Yep, she's naked. Completely starkers, and striking a rather familiar pose to Demi Moore in her 1991 nude-and-pregnant Vanity Fair cover. These magazines do love a pregnant celebrity in the buff, don't they?
But the June issue of German Vogue is much more than that, folks. It's apparently entirely dedicated to the German super and filled with all-Claudia editorials, if what we're hearing over at Fashionlogie is to be believed.
But back to that nude cover. It was shot by Karl Lagerfeld – yep, the same Karl Lagerfeld who made that "fat mummies" comment and then went right ahead and shot a plus-size issue for V magazine weeks later – and shows an about-to-burst Claudia looking painstakingly beautiful as she covers her naughty parts.
If we can't look like Claudia when we're normal – read not-pregnant – what chance to we stand when we're expecting? We're currently muttering something about life being unfair…