Last Updated on 17th March 2011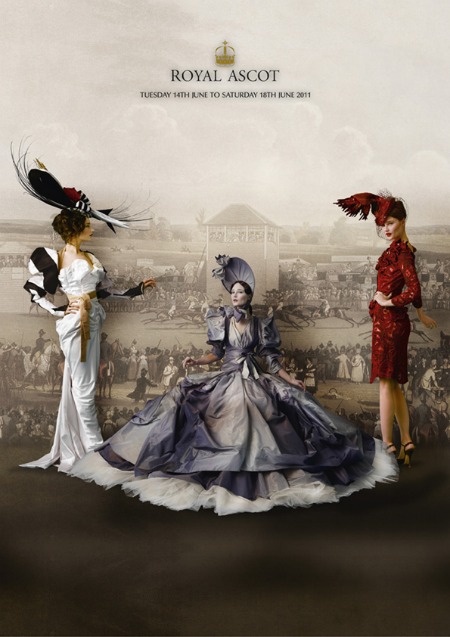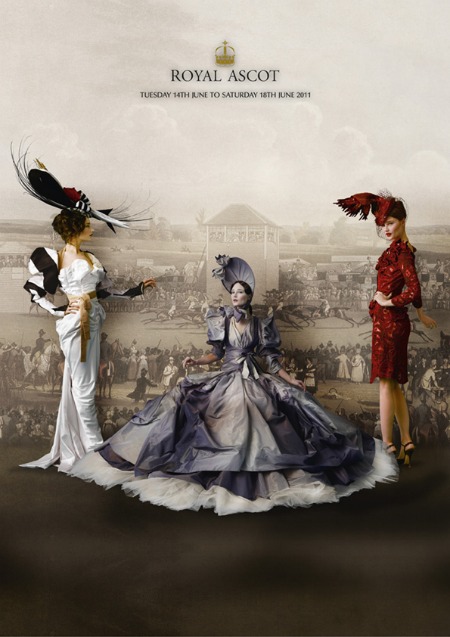 To mark the launch of the most prestigious event in the British social calendar, Britain's queen of fashion, Vivienne Westwood, has teamed up with millinery master Stephen Jones and photo-illustrative photographer Simon Procter to create a single image for Royal Ascot 2011 – and one that encompasses 300 years of racing and fashion.
The image sets the famous background racing scene beautifully, while the fashion photography takes inspiration from Ascot attire across the centuries and is skilfully overlaid upon the iconic backdrop.
The dresses are taken from Westwood's Gold Label collection, with each couture creation carefully selected for the occasion. The black and white dress on the left pays homage to Audrey Hepburn's iconic racing dress in My Fair Lady, while the dress in the centre depicts early Victorian attire – delving even deeper into British costume history.
"Royal Ascot is a British institution for showing off clothes and I like to take advantage of any opportunity to do that," explains Westwood.
Legendary milliner Stephen Jones also brings his creative contribution to the image with three exclusively designed hats.
"It's a pleasure to collaborate with Vivienne Westwood again – this time to celebrate the 300th anniversary of Royal Ascot. With an occasion as momentous as a tercentenary, I wanted to create three hats that really captured the charm and history, as well as the chic and excitement of modern Royal Ascot," says Jones.
And finally, to round off the fashion industry thoroughbreds who worked on this image, British photographer Simon Procter created this striking portrait using a distinctive blend of classical painting and fashion photography, showing off his painter's aesthetic to perfection.
The daily fashion show is now a customery highlight at Ascot, with Vivienne Westwood, Stephen Jones, Amanda Wakeley and House of Hardy Amies all set to showcase their work at Bessborough Restaurant this year.
Tickets and fine dining packages for Royal Ascot 2011 are now on sale here.